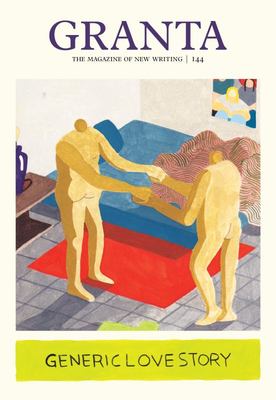 Granta 144
by Sigrid Rausing (Editor)
$24.99
AUD
Category: Magazines | Series: The\Magazine of New Writing Ser.
An issue on gender and power Devorah Baum reads Grace Paley to find out what women want Stella Duffy looks for LGBT voices in the #MeToo debate Fernanda Eberstadt remembers the 70s drag scene in New York Debra Gwartney breaks her silence Ottessa Moshfegh gets what she wants TaraShea Nesbit revisits her lost childhood Brittany Newell deconstructs Paris Hilton's sex tape Lisa Wells on the process of revisiting trauma Also: new fiction from: Tara Isabella Burton, Paul Dalla Rosa, Tommi Parrish, Sally Rooney, Miriam Toews, Zoe Whittall and Leni Zumas Plus: poetry by Momtaza Mehri and Fiona Benson And photoessays by Sébastien Lifshitz and Tomoko Sawada, introduced by Andrew McMillan and Sayaka Murata ...Show more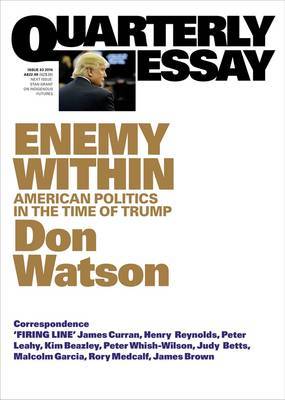 $22.99
AUD
Category: Magazines | Series: Quarterly Essay
In Enemy Within, Don Watson takes a memorable journey into the heart of the United States in the year 2016 - and the strangest election campaign that country has seen. Travelling in the Midwest, Watson reflects on the rise of Donald Trump and the "thicket of unreality" that is the American media. Behin d this he finds a deeply fearful and divided culture. Watson considers the irresistible pull - for Americans - of the Dream of exceptionalism, and asks whether this creed is reaching its limit. He explores alternate futures - from Trump-style fascism to Sanders-style civic renewal - and suggests that a Clinton presidency might see a new American blend of progressivism and militarism. Enemy Within is an eloquent, barbed look at the state of the union and the American malaise. "If, as seems likely, Clinton wins, it will not be out of love, or even hope, but rather out of fear. She can win by simply letting her deplorable opponent lose. On the other hand, she's nothing if not adaptable, and she could yet see the chance to lead the nation's social and economic regeneration ... Call it a New Great Awakening or a New New Deal; it would owe something to both, and to Bernie Sanders as well, but also to her need to be more than the first woman president. --Don Watson, Enemy Within     ...Show more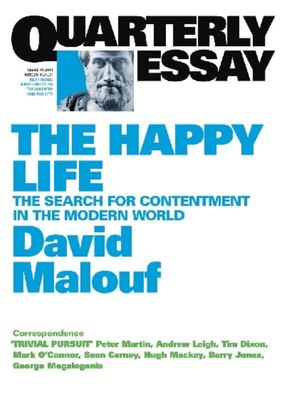 $19.95
AUD
Category: Magazines | Series: Quarterly Essay Ser.
By Australia's greatest contemporary author, an elegant, succinct meditation on what makes for a happy life.;-)   "Happiness surely is among the simplest of human emotions and the most spontaneous," says David Malouf. But what exactly are we looking for when we chase happiness? At this particular mome nt in history, privileged, industrialized nations have lessened much of what makes us unhappy: widespread poverty, illness, famine. Yet we are still unfulfilled, turning increasingly to yoga, church, Match.com, drugs, clinical therapy and retail therapy. What is at the root of our collective stress, and how can we find our way to contentment?   Drawing on mythology, philosophy, art and literature, Malouf traces our conception of happiness throughout history, distilling centuries of thought into a lucid narrative. He discusses the creation myths of ancient Greece and the philosophical schools of Athens, analyzes Thomas Jefferson's revolutionary declaration that "the pursuit of happiness" is a right, explores the celebration of sensual delight in Rembrandt and Rubens and offers a perceptive take on a modern society growing larger and more impersonal.   With wisdom and insight, Malouf investigates that simplest, most spontaneous of feelings and urges us to do the same. ...Show more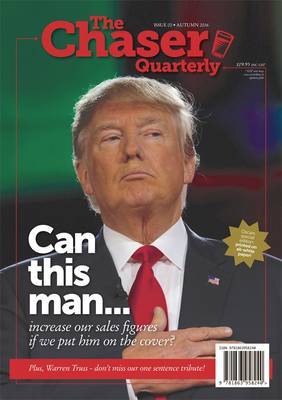 $19.95
AUD
Category: Magazines
"From the team behind The Chaser's War on Everything, the Chaser Quarterly is a journal of low-brow satire and high-brow toilet humour. The Chaser returns to its print roots for the first time in ten years. Featuring new work from Australia's top comedy writers, including long-form satirical essays and stories, and short-form news satire and ad parodies. The perfect gift for fans of The Chaser who are also able to read. Perfect reading when the battery on your smartphone goes flat. " ...Show more
$22.99
AUD
Category: Magazines
What went wrong for Labor and how did Scott Morrison achieve his remarkable victory? In this dazzling report from the campaign trail, Erik Jensen homes in on the insecurities that drive Bill Shorten and the certainties that helped Scott Morrison win. He considers how each man reflects, challenges and co mforts the national character. Who are Morrison's "quiet Australians"? What did Shorten Labor fail to see? And will fear always trump hope in politics? The Prosperity Gospel sheds new light on the politics of a divided nation. "Arthur Sinodinos says the election is a crapshoot. He's in a car park in Nowra, waiting for Morrison. 'The momentum has been with us at different times, especially in Queensland,' he says. 'Central Queensland, even the outer suburbs of Brisbane. It's a narrow pathway to victory, with the odds going the other way. But it ain't over until it's over.' Despite everything, Arthur Sinodinos has an honest face. He does not look confident." ...Show more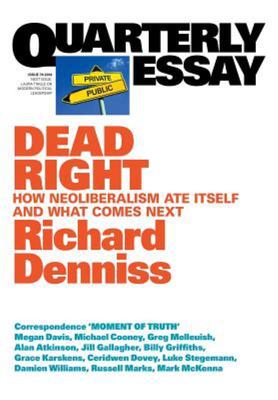 $22.99
AUD
Category: Magazines | Series: Quarterly Essay
How did the big banks get away with so much for so long? Why are so many aged-care residents malnourished? And when did arms manufacturers start sponsoring the Australian War Memorial?   In this passionate essay, Richard Denniss explores what neoliberalism has done to Australian society. For decades, we have been led to believe that the private sector does everything better, that governments can't afford to provide the high-quality services they once did, but that security and prosperity for all are just around the corner. In fact, Australians are now less equal, millions of workers have no sick leave or paid holidays, and housing is unaffordable for many. Deregulation, privatisation and trickle-down economics have, we are told, delivered us twenty-seven years of growth ... but to what end?   In Dead Right, Denniss looks at ways to renew our democracy and discusses everything from the fragmenting Coalition to an idea of the national interest that goes beyond economics.   "Neoliberalism, the catch-all term for all things small government, has been the ideal cloak behind which to conceal enormous shifts in Australia's wealth and culture ... Over the past thirty years, the language, ideas and policies of neoliberalism have transformed our economy and, more importantly, our culture." Richard Denniss, Dead Right ...Show more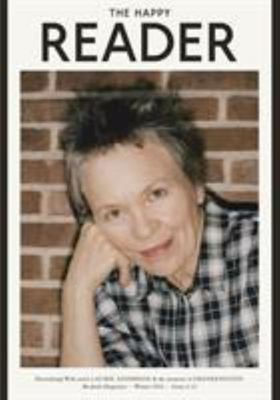 $7.99
AUD
Category: Magazines
For avid readers and the uninitiated alike, this is a chance to reengage with classic literature and to stay inspired and entertained. The concept of the magazine is simple- the first half is a long-form interview with a notable book fanatic and the second half explores one classic work of literature f rom an array of surprising and invigorating angles. ...Show more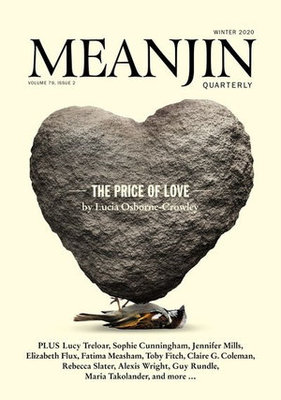 $24.99
AUD
Category: Magazines
Intimacy Author and essayist Lucia Osborne-Crowley examines the cost of intimacy for women in a world where men demand exclusive access to the closeness of their female partners, often without returning the emotional labour involved. Other essays include- Academic and author Toby Miller looks at the st ate of the world, from climate change and species extinctions, to the culture of social media and misinformation, the growing gulfs of economic and social inequality, and concludes that the problem is universal and can be summed up in one word- capitalism. Critic and academic Emmett Stinson writes on the sad gap between the content provided by the news sources that inform us and, well, reality. Noongar author Claire G. Coleman writes on the long shadow of the Stolen Generations- 'Dad discovered he was Noongar when he was 63, when I was 30, when his Uncle Bob died...' Author Eleanor Gordon-Smith considers the irresistible rise of populism ... and how giving people what (they think) they want is reshaping the world. Poet Toby Fitch details Australian animal and bird extinction from 1788 to the present. And author Ellena Savage on the strange and deeply personal world of acknowledgement pages. Plus- New memoir, new fiction, and the best in new Australian poetry. ...Show more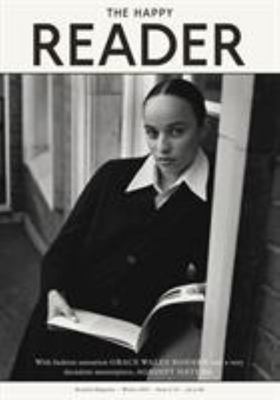 $8.99
AUD
Category: Magazines
For avid readers and the uninitiated alike, this is a chance to reengage with classic literature and to stay inspired and entertained. The concept of the magazine is simple: the first half is a long-form interview with a notable book fanatic and the second half explores one classic work of literature f rom an array of surprising and invigorating angles. ...Show more